USA Tattoo Studios
Alabama Tattoos
Alaska Tattoos
Arizona Tattoos
Arkansas Tattoos
California Tattoos
Florida Tattoos
Illinois Tattoos
New York Tattoos
Ohio Tattoos
Pennsylvania Tattoos
Texas Tattoos
Washington Tattoos

Search Directory
Submit Tattoos
Advertise

Tat-Fu Tattoo is located in Flagstaff AZ, in the state of Arizona in the United States of America (USA). Find the location of each tattooist in Flagstaff and the contact details to make an appointment. Some tattoo shops also have a website with a tattoo photo gallery online showing their portfolio of tattoo art.




Sponsored Links


Tat-Fu Tattoo Shop
Tattoo artists shop and body piercers in the Arizona city of Flagstaff USA. Tatfu does custom pieces, cover ups and other forms of tattoo body art.

TatFu Tattoo Tattoos say "We aspire to promote the artistic aspect of the industry and lift the veil of stereotypes society has put on those seeking individualism through body modification. We care about your tattoos more than you do. That's why we strive to make your custom work better than you imagined."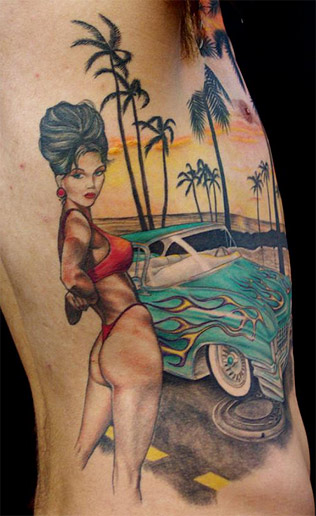 Tattoo of a sexy woman and a hot car by tattooist Josh from Tatfu Tattoo in Flagstaff Arizona.

Tattoo Shop Street Address 104 E. Route 66
City / State / Zip Flagstaff, AZ, 86001
Phone Number 928.213.5493
http://tatfutattoo.net/


View Larger Map


Tatts> Tattoo Artists List> Tattoo Shops USA> Tattoos in Arizona> Tattoos in Flagstaff AZ> A to Z Arizona Tattoo Shops> TatFu Tattoo Studio AZ USA